Tools Checks
Order Mechanic's Tools design personal checks online in a variety of styles. These bank checks can be used with any U.S. bank checking account.
---

Tools Of The Trade Mechanic Wrenches Checks
Wrenches, sockets, ratchets... it's all here! 4 alternating images.
---

All About The Tools Personal Checks
Bring the right tool for the job and let them know you mean business.
---

Mechanic Checks
Whether a professional or just a master behind closed doors, these mechanic personal checks are a fun, illustrated way to show your love for the toolbox!
---

Brawny Power Truck Mechanic Personal Checks
4 alternating images of a truck mechanic at work.
---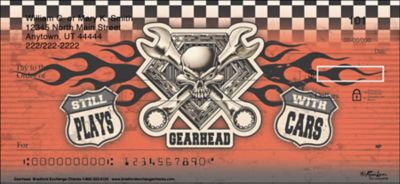 Gearhead Checks
Artist Ryan Lean revved up his inner gearhead when creating the artwork for this hot design. Whether you love the roar of a bangin' big block or simply admire the skilled men and women who can bring classic hot rods back to life, you'll enjoy getting behind the wheel of these motor city-inspired beauties. Beneath the checkered flag top, a chromed-out skull and crossed wrenches gleams atop a steely chain-bordered base with dark flames blazing out of both sides. What could possibly top this cherry-red beauty? Two road signs that declare, "STILL PLAYS WITH CARS" and the tough-guy mechanic moniker, "GEARHEAD"! Coordinating Gearhead address labels also available.
---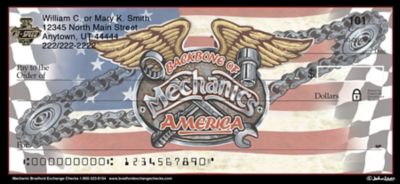 Mechanic Personal Checks
What die-hard gearhead wouldn't love this patriotic design by artist John Lean? It features a background of American and checkered flags, decked out with a detailed gear and chain logo sporting golden wings. To top it all off, the artist super-charged the design with a chromed-out crossed tool centerpiece welded to an oval plaque with a tough forged look. The big finish is the addition of the phrase, "Mechanics Backbone of America". Coordinating Mechanic address labels also available.
---
More Auto Mechanic Checks at Checkspressions.
---