Truck Checks
Order Big Rig trucker theme personal checks online in a variety of styles. These semi truck design bank checks can be used with any U.S. bank account. Select from menu at right to view other truck designs including pickup trucks, farm vehicles, and heavy equipment.
---

Mac Dreamy Trucks Checks
Semi Checks - 18 wheels and the open road.
---

Fast As Light Big Rigs Personal Checks
These awesome, professional looking big rig truck driving personal checks are ready for the open road!
---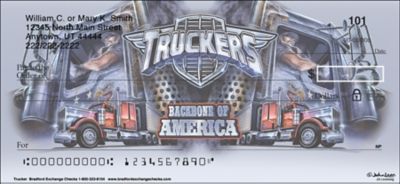 Truckers - Backbone of America Personal Checks
These uniquely designed semi checks by artist John Lean use bold imagery and powerful words to convey how we feel about these men and women who dedicate themselves to being the lifelines of this great country. A steely blue gradient serves as the perfect backdrop for Lean's unique art effect, in which he depicts a mirror image of the iconic American trucker, CB in hand, rolling down the open road with his arm confidently hanging out the window of his icy blue rig.
---

Big Rig Truckin Personal Checks
4 alternating collage images of big rigs and highway signs.
---

Big Pete Trucks Personal Checks
Four powerful and professionally photographed personal check designs showing our most famous Mack trucks both in and out of action!
---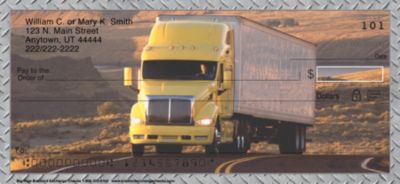 Big Rigs Checks
Four designs feature different semi truck scenes along America's open road. As an added touch, each check has a diamond plate border for a rugged road warrior look.
---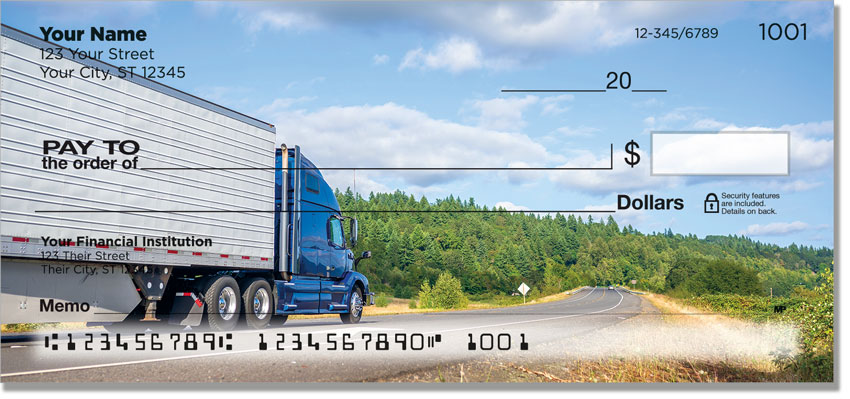 Semi Truck Personal Checks
An original design that honors all truckers who hammer down and head for the next destination.
---

Long Haul 18-Wheeler Personal Checks
Artistically shot images of semis hauling cargo fill this series of personal bank checks.
---

Trucking Composites Checks
Artistic images of semi trucks, made with clean lines and interesting colors will add a little fun to your checkbook.
---

Payload Trucker Checks
Your precious cargo does more than just pay the bills, it keeps the nation rolling. Load up your checkbook with these artistic 18 wheeler personal bank checks.
---

Mountain Trucking Big Rigs Personal Checks
18 Wheelers moving on down the line rain or shine, snow or rain... these scenic checks are created especially for any one that knows what it is to do the long haul!
---

Patriotic Trucker Personal Checks
Truck drivers and 18 wheelers keep America running by hauling valuable cargo all over this great nation. Images of maps, interstates, and semis grace these patriotic personal bank checks. Keep on truckin'.
---

Big Rigs Haulin' Checks
4 colorful illustrations of semi trucks on the road.
---