Pickup Truck Checks
Order Pickup truck personal checks online in a variety of styles. These pickup trucks design bank checks can be used with any U.S. bank account. Selection includes Chevy, Ford, Lowrider, Vintage trucks and more.
---

Chevy Pickup Trucks Checks
Images include Silverado, Avalanche, and Chevy S10 pickup models.
---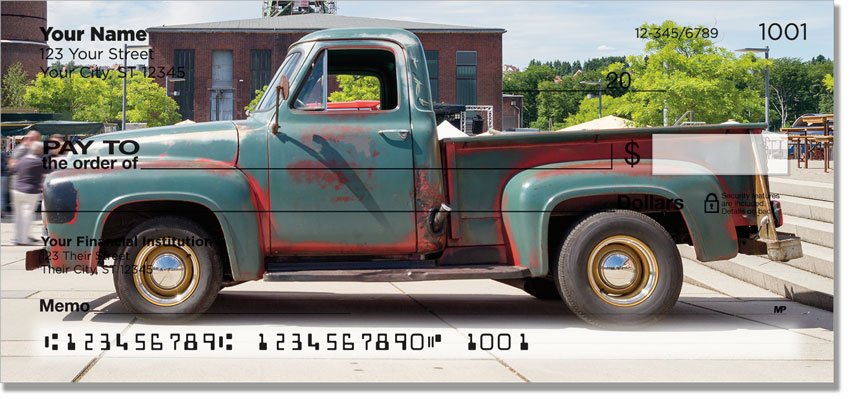 Vintage Pickup Trucks Checks
4 alternating images of pickup trucks dating from 1960's back to 1920's.
---

Ford Tough Trucks Personal Checks
These checks include alternating images of Ford F-150, F-250, and F-350 Super cab models.
---

Rusty Old Trucks Personal Checks
4 alternating illustrations of old pickup trucks disintegrating in an open field.
---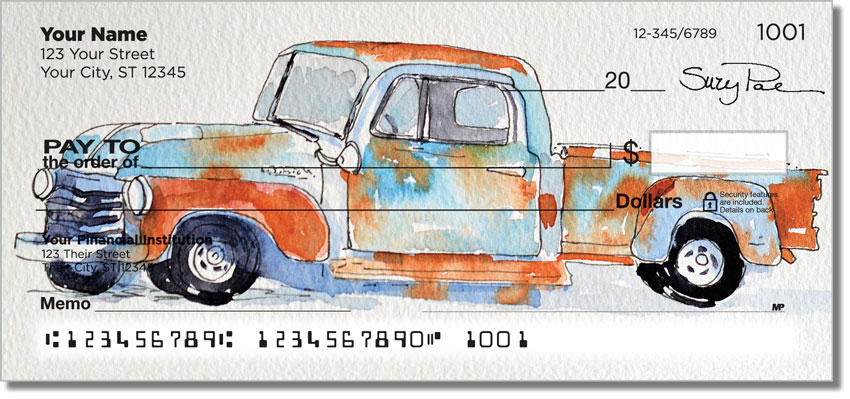 Rusty Companions Checks
4 watercolor illustrations of beat-up vintage pickup trucks.
---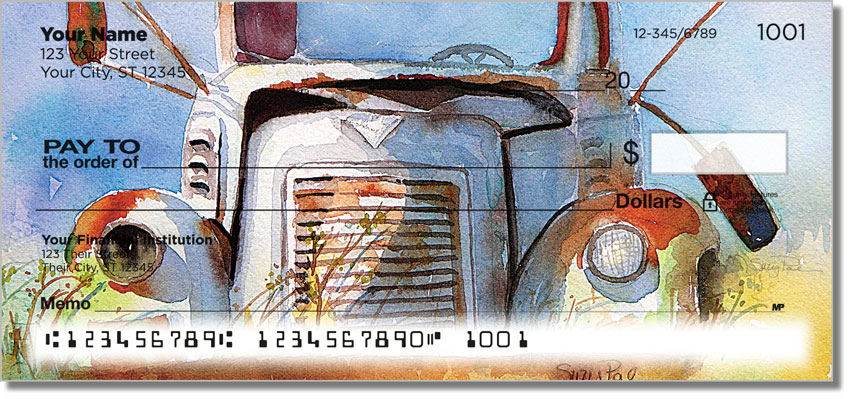 Rust In Peace Old Trucks Checks
Illustrations of old pickup trucks rotting in a junkyard.
---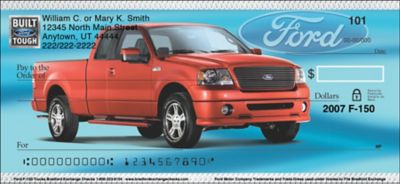 Ford F-150 Pickup Trucks Personal Checks
Show some American truck pride with these pickup truck checks from Bradford Exchange Checks®. Four different Ford F-150 models are featured in these pickup truck personal checks: the 1997 Ford F-150, the 2007 Ford F-150, the 2009 Ford F-150, and the 2016 Ford F-150. Silver diamond plate borders are displayed on the top and bottom of these modern Ford F-150 Trucks personal checks.
---

Custom Sport Trucks Personal Checks
Pimped-out lowrider pickup trucks are featured in this series of personal checks.
---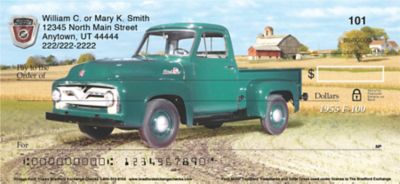 Vintage Ford Trucks Personal Checks
The open road is calling. Embrace a sense of nostalgia and imagine traveling back in time with these vintage Ford pickup trucks checks from Bradford Exchange Checks®. Feel that country air as you use these four alternating vintage check designs of the Ford F-Series. Featured vintage American Ford pickup trucks are: the 1948 F-1, the 1955 F-100, the 1965 F-100 and the 1981 F-150.
---